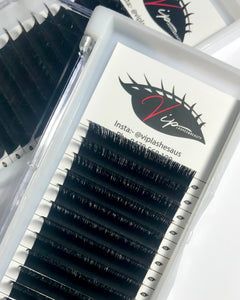 Creating your own volume lashes couldn't be any easier with our Flair Easy Fans.  Create the volume you want to suit your clients look.  They nearly fan themselves... 2D to 15D you design your required volume.
These time-saving fans are perfect for fast-paced technicians that want to achieve an efficient volume effect for their client.
SINGLE SIZED TRAYS
8mm to 15mm
MIXED TRAYS CONSIST OF:
1 row 8mm
1 row 9mm
2 rows 10mm
2 rows 11mm
2 rows 12mm
2 rows 13mm
1 row 14mm
1 row 15mm
Disclaimer 
Please note that each fan is made by hand, each fan can vary from the next and each tray will slightly different from the other. No natural lash is exactly the same, just like faux lashes so when using the fans in a set, the overall results will still look amazing.